In this issue:
A Marriage Proposal, A Greek Myth, A Shadow Cast, and a Spring Collection.
Three Chances to see Checkov's 'The Proposal'
Our One Act Play for 2020 is the comedy The Proposal by Anton Checkov. Directed by Luke Treacy the play stars Dónal Ryan, his feisty daughter Claudia Stokes O'Dwyer and handsome Simon Cunningham as her dogged suitor. This promises to be a very entertaining piece. You have a choice of three opportunities to come and see it:
Lexicon Library Dun Laoghaire – Saturday 18th January at 3pm in the Lexicon Theatre (Double Bill with Lua McIlraith -see below)
Glenealy Drama Festival – Saturday January 25th (See Wicklow ICA Drama on Facebook)
Bray One Act Festival – Wednesday January 29th http://brayoneact.squarespace.com/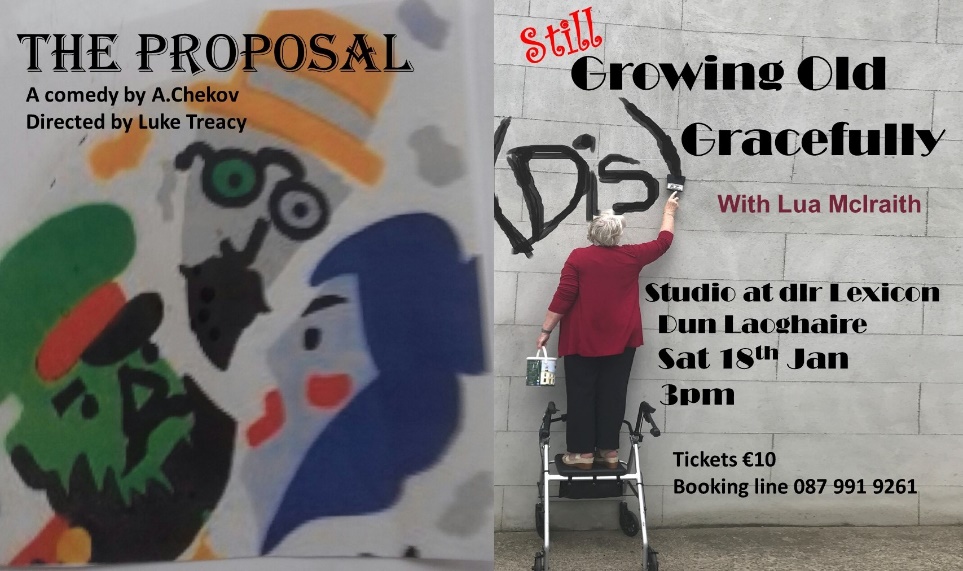 In the Lexicon Checkov will share the matinee bill with Lua McIlraith's show 'Growing Old Disgracefully' which has already played to full houses in Dundrum and Greystones. We are looking forward to Lua's first performance in 2020 of her successful one-woman show of laughter and song.
Eurydice – February 25th – 28th Dalkey Town Hall
The last time Dalkey Players performed a Sarah Ruhl play, we went all the way to Athlone and scooped the top All-Ireland Festival Drama awards. This spring Director Emma Jane Nulty will apply her magical touch to another interesting, moving play.
In Eurydice, Sarah Ruhl re-imagines the classic myth of Orpheus through the eyes of its heroine. Dying too young on her wedding day, Eurydice must journey to the underworld, where she re-unites with her father and struggles to remember her lost love. With contemporary characters, ingenious plot twists, the play is a fresh look at a timeless love story.
The cast features Dermot Byrne, Sarah Coughlan, Maria Fitzgerald, Fiona Keane, Alice Meehan, Alan Nuzum and Conall O'Beoláin, with Siobhán Caskie and Emma Mulligan leading the production team.
We are aiming for big attendances to help send the show off around the country with a fair wind (and plenty of diesel in the van). Do get the word out and help us fill Dalkey Town Hall for what promises to be an exciting show. If there are any work societies or social groups you are part of, this might be a great chance for a group outing. And anyone active on social media, do help spread the word.
Festival Circuit Appearances – support on the road is always welcome:
Castleblayney – March 1st, Ballinamore – 6th, Roscommon – 7th, Mountmellick – 12th, Kiltyclogher – 13th, Claremorris – 19th, Glenamaddy – 27th, Cavan – March 28th.
Cast of a Shadow of a Gunman
Well done to everyone involved in the production of Shadow of a Gunman which had a successful four-night run in November 2019 in Dalkey Town Hall. Director Gerry Clabby assembled a talented cast and crew who transported us back to Dublin in 1920 at the start of the War of Independence. Apart from some dodgy stitching in Alan Nuzum's braces, the show went off without a hitch. The Gate Theatre has decided to follow our example and stage it in 2020. But it wont be as good as ours, obviously.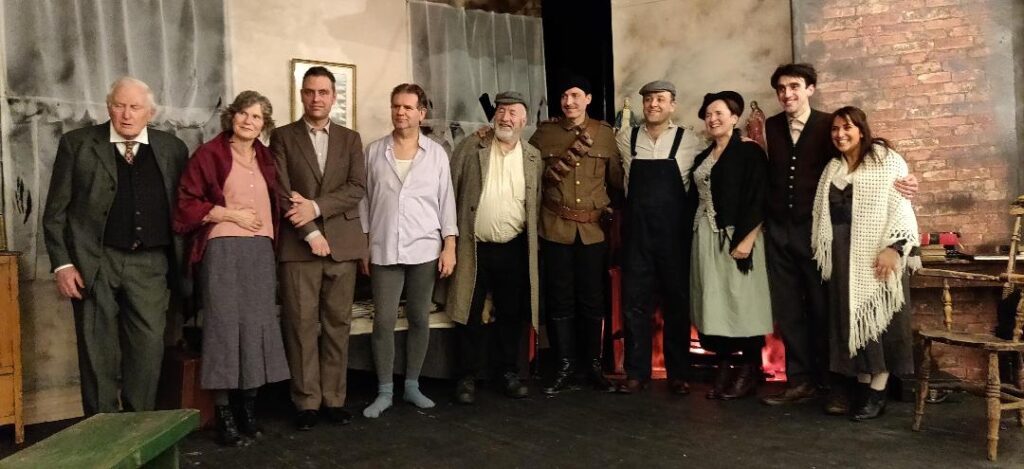 Christmas Party – The Pub Crawl that fell over.
In a break with recent tradition the Christmas Party took place before Christmas, on Thursday 12th December. What was planned as a pub crawl evolved into a sit-down protest in the welcoming King's Inn. This was followed by a perambulation around Dalkey village that Leopold Bloom might have been proud of, albeit by a rapidly diminishing group. Eventually two dying embers combined to light a fire upstairs in The Magpie, where the The Friends of the Tower (Sandycove literary types also enjoying a night out) rivalled the thespians in a sing-off into the wee hours.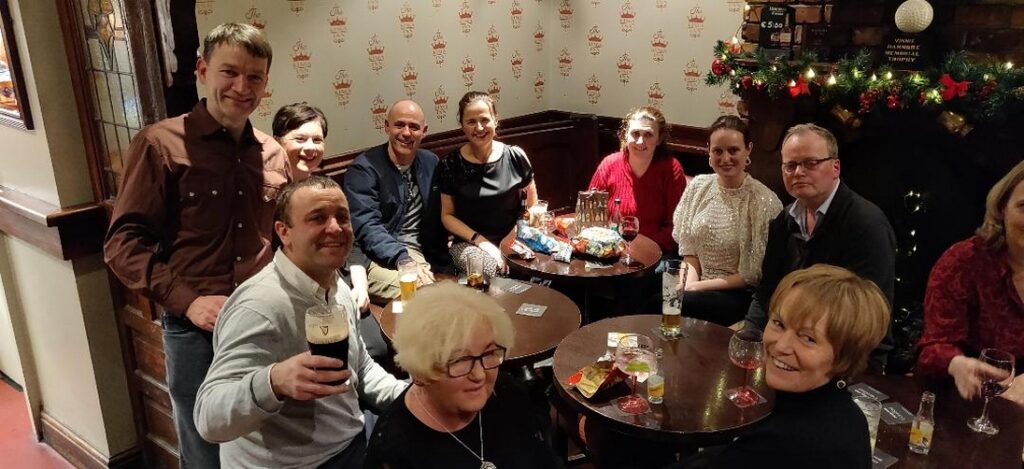 Spring Ideas for 2020
What will we do to keep busy and active from March to May once Eurydice takes to the road? The emerging plan is to prepare a number of shorter plays/ sketches in the spring culminating in a performance in April/ May 2020.
Last year's Back2Basics in-house show enabled a wide range of members to direct and act in simple, short sketches where the emphasis is on the drama and on fun. This year we have the chance to take it one step further and – depending on the level of interest – have a public performance.
For this to happen, we need members to step forward with ideas for suitable short works, and to take a hand in directing. So if you wave a mini-play, a sketch, or a short play in mind, or you would like to act, please get in touch with one of the committee.
Keeping in Touch
Remember rehearsals are ongoing every Tuesday and Thursday in The Harold School. So please drop down to say hello. Normally we pause for tea around 9pm. Also, continue to read these newsletters to see how the format is evolving and continually improving, really. An Cathaoirleach.