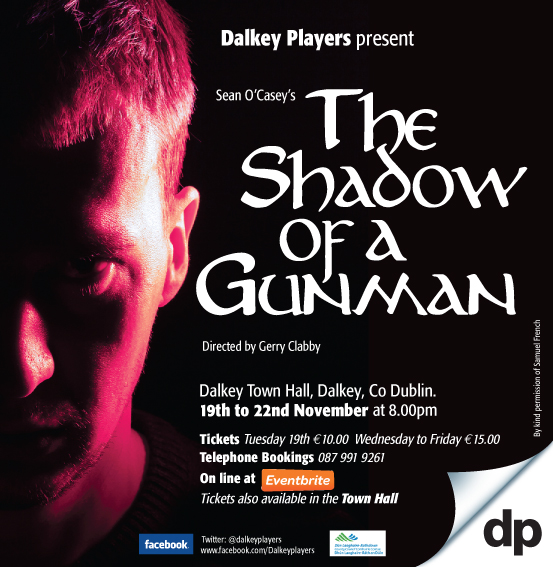 Directed by Gerry Clabby
Dalkey Town Hall, Dalkey, Co Dublin.19th to 22nd November at 8.00pm
Tickets avaiable online via eventbrite
Tuesday: 19th €10.00 Wednesday to Friday: €15.00
Telephone Bookings: 087 991 9261
Tickets also available in the Town Hall
By kind permission of Samuel French
WHAT IT'S ABOUT
It's 1920, and War of Independence rages on the streets of Dublin. Donal Davoren, an aspiring poet and recent arrival in a Dublin tenement is the subject of much curiosity. Mistaken for a gunman on the run, and with a whiff of danger about him, everyone is curious about Donal including the beautiful young Minnie Powell. What danger  can there be in being the shadow of a gunman? But soon the reality of the brutal war on the streets outside moves closer to home with tragic consequences.
WHO'S IN IT
Kirana Bhagwan, Sarah Coughlan, Simon Cunningham, Barry Donaldson, Emmet Driver, Kevin Lyons, Rachel McConnell, Alan Nuzum, Luke Tracey and John Walsh.
THE PRODUCTION
The Shadow of a Gunman premiered at The Abbey Theatre in 1923 to immediate success, selling out for the first time in the Abbey's history, and establishing Sean O'Casey as a playwright. The first of O'Casey's three 'Dublin plays', this two-act work looks at the effects of war on ordinary people as they try to cope with its impact on their lives. RTÉ All Ireland Winners' Dalkey Players are delighted to bring this O'Casey masterpiece to Dalkey. The 'Dublin plays' premiered during a time of revolution and civil strife in Ireland, proving both provocative and popular, and establishing O'Casey's reputation as one of the most influential and enduring Irish playwrights.